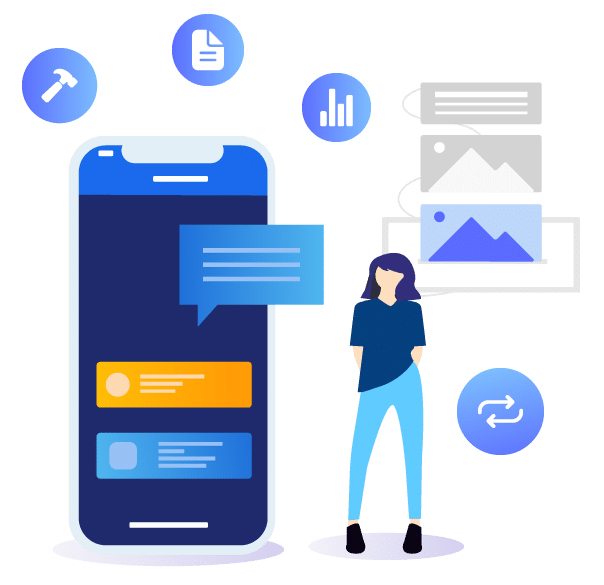 The rise in mobile applications is something that's growing more & more, day by day. We, being the cutting-edge mobile app experts leave no stone unturned to present the best blend of our ideas, concepts, and up-to-date knowledge when it comes to creating applications that match the expectations of today's users. Our developers ensure creating new-aged apps that work flawlessly on every operating system.
Be it the popular enterprises, e-commerce firms, we understand the mindset of them all and truly know which features and functionalities are adored by their target audience. Be it any type of application and no matter how tight the deadline is, our developers never disappoint.
We incorporate agile practices to make apps that gain countless downloads within no time. By creating applications for every device, we make it easy for our clients to reach millions of users without putting in many efforts. What makes us unique is our expertise in doing justice to every type of project.

Up to 10-page Static page
Responsive Website Design
Domain Name
Basic Logo Design
Web Hosting
Inquiry form
On-page optimization
Off-page optimization (One month)
Support - One year
FB Account / page
-
<--Exclusion-->
Image(s)
Content(s)
-
-
Dynamic Web-CMS (Single Page)
Up to Six modules on one page
Responsive Website Design
Domain Name
Logo design
Web Hosting
Inquiry form
On-page optimization
Off-page optimization (One month)
Support - One year
FB Account / page
-
<--Exclusion-->
Image(s)
Content(s)
-
-
Dynamic Web- CMS (Multi Page)
10-page dynamic website
Responsive Website Design
Domain Name
Logo design
Web Hosting
Inquiry form
On-page optimization
Off-page optimization (One month)
Support - One year
FB Account / page
-
<--Exclusion-->
Image(s)
Content(s)
-
-