Have you wondered what SEO means and what it can do for your travel business? It's less complicated than it seems — and once you understand it, you can use it to bring more customers to your website for free.
When you type a question into a search engine like Google, it looks for reliable sites with content that matches the keywords in your question. Website owners create their content with keywords in mind so that their page will show up in your results — and that's search engine optimization (SEO) in a nutshell.
SEO for travel websites is the key to helping potential customers find your business when they plan a trip. And having a good position in search results will bring you free traffic from exactly the folks you'd like to reach: customers who are actively researching travel plans.
This article will help you choose the best keywords for your travel website and learn how to use them to help your site appear in search engine listings.
How SEO fits into your marketing plan
A digital marketing strategy consists of five basic elements:
Website
Email marketing
Social media
Business listings (TripAdvisor, Google My Business, etc.)
Content (your blog posts)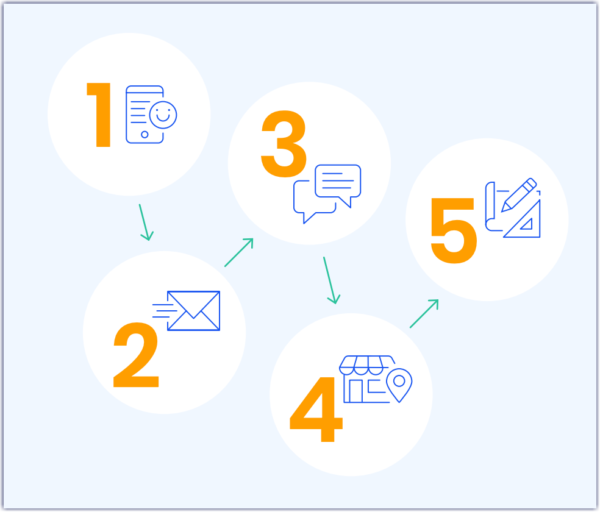 Your website is the hub for all your online marketing efforts, and that's where you'll want to begin using SEO techniques — but once you have a keyword strategy, you can use those keywords in your social media posts and business listings as well.
Using the same keywords in your business listings and social media posts helps search engines see your expertise and gives you more chances to be found in search results.
Your keyword strategy
Travel is a huge category — and a very competitive one. The best way to succeed is to have a tight niche and a very specific customer base.
Enterprise-scale businesses can spend reams of money to reach the top of the search pile for broad keywords like "travel planning" or "tours." That's why small businesses are better off using phrases called long-tail keywords.
Use long-tail keywords
Long-tail keywords are phrases of three to four words that can be very specific to your business. After all, what you offer isn't interesting to all travelers — you only need to attract the ones who are a good fit for you.
Here are examples of long-term keywords that show how they can be built around specific travel niches:
Bargain trips with kids
Luxury resorts for seniors
Best bargain cruises
Adventure travel for singles
Iceland on a budget
All-inclusive Cancun beach
Pet-friendly hotels in NYC
Think like your customers
Keywords are only valuable if a potential customer might type them into a search engine.
For instance, imagine a tour operator who specialized in cooking classes in Mexico City. Keywords that come to that person's mind might include:
How to make tortillas
Preparing street tacos
Making fresh salsa
Do you see the problem here? Most travelers probably won't search for these phrases. This tour operator is probably better off using long-tail keywords like:
Fun things to do in Mexico City
Mexico City activities
Mexico City foodie tours
Mexico City for foodies
Culinary classes in Mexico City
Best tourist sites in Mexico City
Sometimes you have to role-play to find the right phrasing. Pretend you are your very best potential customer and imagine what you might type into a search engine and how you would react to seeing your business listed in the results.
Be precise
Choose keywords that will put you in front of the right customers.
If your business is location-specific, include all variations of the location name.
Name what you do. For example; tour, cruise, hotel, tour packages.
Descriptive words like; bargain, luxury, family, adults, kid-friendly, and adventure, will get you in front of the right people.
Brainstorm related terms
A good keyword strategy can include many phrases that are all related.
For instance, if your primary key phrase is "luxury Caribbean cruises," you might also want to include "Caribbean island tours," "island-hopping in the Caribbean," and the names of popular islands.
How to implement SEO
Once you have a list of keywords, what should you do with them?
Here's a list of the most important spots to place your keywords — but use them in a way that feels natural.
Page title
Headline
Intro (first 200 words)
Subheadings
Image titles and "alt" tags
Image captions
Throughout the body copy
Placing keywords in as many of these locations as you can without it becoming awkward is called optimizing the page.
You should optimize your Home page and Services page for your core keywords. Every time you add a blog post, optimize it around a different keyword related to your core keywords.
When Google and other search engines look at your site, they'll clearly see what each page is about and how it fits into your site as a whole.
How to boost SEO with content marketing
Content marketing can refer to blog posts, videos, infographics, and other original content that you produce — but for starters, SEO strategies are easiest to implement on text-based blogs.
Adding content to your blog regularly is one of the best ways to build credibility with search engines. Every time you publish a post, you have an opportunity to add more keywords and phrases related to your site's strategy. Search engines love a site with lots of content that's all interrelated, and sites that regularly add new content are more likely to appear at the top of a results page.
Once a week is an ideal schedule for adding blog posts to your website, but if that's not sustainable for you, set a less ambitious schedule. You can hire a writer to create posts for you — just be sure to find one who understands SEO.
Not sure what to write about? Let your keyword strategy guide you. Think about the kind of searches your customers might make while planning a trip and what information you can help them with.
For instance, the cooking class provider that we used as an example earlier wants to attract food-lovers traveling to Mexico City. In addition to the more general keywords they want to rank for, they might create blog posts around keywords like these to reach their audience:
Best restaurants in Mexico City
Best tortillas in Mexico City
Best salsa in Mexico City
Best food markets in Mexico City
Offering articles on these topics will bring target customers to their website at exactly the right moment — when they're planning a trip — and give the tour operator a chance to impress the visitor with their style and brand and introduce their tours.